Laser noise is very often the primary limiting factor in making high-accuracy optical intensity measurements. There are ways of making your laser quieter, but they won't get to the shot noise level. On the other hand, what we actually measure is the photocurrent, not the laser power, and that we can improve.
Laser Noise Cancellers are extremely powerful devices that allow us to make shot-noise limited measurements at baseband, even with very noisy lasers. With zero adjustments, they will reliably suppress the effects of laser residual intensity noise (RIN) by 55 or 60 dB from dc to several megahertz, and with a bit of (optical) tweaking, will do 70 dB or more at low frequency, which is where it's most needed (see the picture above, which shows > 70 dB suppression of noise intermodulation). There's a New Focus app note which surveys applications of noise cancellers.
The laser noise canceller has two operating modes, linear and log-ratio. The linear mode produces a replica of the photocurrent minus the noise. The log ratio mode also suppresses the intermodulation of the laser noise with the signal, allowing (for example) tunable diode laser spectroscopy to achieve 1-ppm sensitivities even when the laser power is varying by >30% over a scan line, as shown here.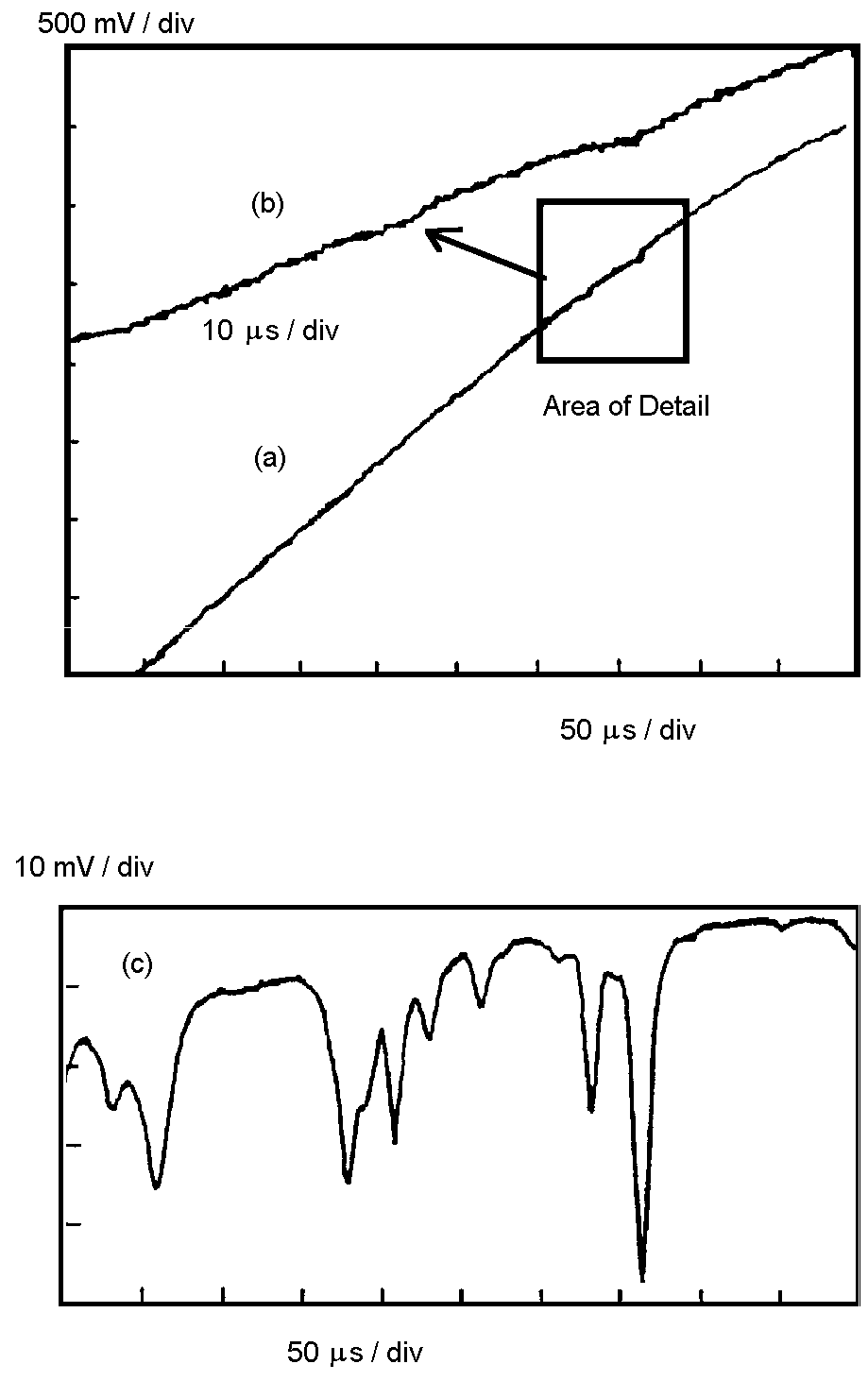 Elimination of sloping baseline and peak-height variations. Here's one way the previous figure translates into real measurement benefits.
Top: Raw detected photocurrent, comparison beam blocked. Spectral features are barely detectable bumps on a huge nonlinear sloping baseline, even in the detail view.
Bottom: the spectral region of the detail (about 0.5 cm-1) with the log ratio output of the noise canceller. The noise intermodulation suppression of 70 dB or thereabouts makes the peak heights independent of the laser power variations, so the lower trace gives sample absorbance directly, at a sensitivity better than 10-6.