Many retail merchants would like to know what path their customers take through their store and what they stop to look at. There is also interest in counting how many people are waiting in line at each register. The "Footprints" project attempts to answer such questions using an array of ceiling-mounted passive infrared sensors.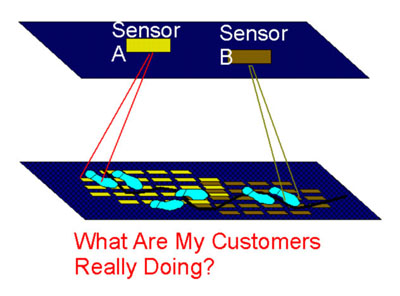 The sensors used in the system are pyroelectric detectors, which are most sensitive to moving heat sources. They are similar to the ones used in home security systems and automatic porch lights. However, these are imaging: each is able to generate a thermal image of an 8 foot by 12 foot region of the floor with one foot resolution. This large granularity is a compromise between complexity of the sensor head and the minimum spatial resolution needed to separate people. Infrared is used because it makes detecting the people easy - they are typically much warmer than the floor. Also, since individuals can not be recognized with such crude images, there are fewer privacy concerns about instrumenting the whole store. Take a look at this video sequence showing what the sensor really sees (4.2MB AVI Cinepack).


| | | | | |
| --- | --- | --- | --- | --- |
| Raw | Difference | Smoothed | Threshold | Targets |
| | | | | |

Understanding of customer movement can be used to improve store layout and merchandising effectiveness. Counting people in line can help optimize staffing levels to accommodate daily and weekly traffic variations. Since the estimated installation cost of such a system is under one dollar per square foot, these potential savings make the system attractive to merchants.

The sensors are not yet commercially available. IBM may offer to license the technology to the interested parties. Please contact Brian Hinman (hinman@us.ibm.com) for further licensing information.